Buyers Tips For Short Sale Success
Are you searching for information regarding tips for buying a short sale home? If so, we can help! At JC Realtors we have been specializing in short sale deals for many years and understanding the ins and outs on how to acquire a short sale property. Buyers pursue short sales to get great deals. However, purchasing a pre-foreclosure, or short sale home it's not as simple as you think. Patience is key because very few can close in 30 days; while others around 4 to 6 months and sometimes even longer. So when you see a home at a lower price for the neighborhood, ask your real estate agent to call their listing agent to find out if it's these type of property.
What is a Short Sale?
A short sale means the seller's lender is willing to negotiate the new price of the property at a discounted payoff value. However, just because it is listed with short sale terms does not mean the lender will accept the offer. Some conditions include up to date mortgage payments on the seller's behalf and a significant decrease in the property value. The discounted price might bring the price in line with new market value, not below it.
Check the Public Records
The real estate agent can find out who is in the title, whether the foreclosure notice has been filed or not, and to determine how much to offer, ask the amount that is owed. If two loans are pending, the first mortgage lender's will need to give something to the second to gain its cooperation and sell the property, unless the lender does not want to foreclose.
Hire an Agent with Short Sale Experience
If the listing agent has never dealt with a short sale and has no experience in that arena find an experienced realtor. An agent with experience in short sales can protect your interests and expedite your transaction. You don't want to miss an important detail due to lack of experience or find out your deal is prolonging because it was not followed up in time.
Qualifying the Property and Seller for a Short Sale
A lender will accept a short sale if the seller has no equity and can't repay the difference between the sales price and the loans. Also, the taxes owed would also be forgiven, and a hardship letter to the lender should be included as part of the process.
Submit Documentation and Purchase Offer to Lender
Remember, you do not have a deal until you have an offer that the lender approves. Send the lender a copy of the earnest money deposit, but do not get discouraged if the lender asks you to increase it. To support the price you are offering, send a pre-approval letter to the lender, and a list of comparable sales supporting the price.
Give the Short Sale Lender Time to Respond
Make a contingent offer upon the lender's acceptance, giving them a time frame in which to respond, so you will be free to cancel if they haven't replied to you. Some lenders have a short sales committee, but most can decide within three to four months. Get a name and phone number that you can reach on directly and don't send an offer blindly to an unknown department.
Understand Short Sale Commissions
The lender is the entity paying the commission, and since it's losing money, they will negotiate it directly with the listing broker. The commission then would be shared with your agent. If you signed a buyer's broker agreement with your agent, ask if the agent will waive the difference due. Sometimes you might have to pay that amount out of your pocket. Some brokers feel it's unfair to penalize the agent, but who is calling the shots, is the lender!
Reserve the Right to Conduct Inspections
Generally, the lender will not pay for home protection plans, buyer credits or pest/termite inspections. A buyer will be asked to buy the home "as is," which means no repairs.
Need Help With Florida Real Estate Questions?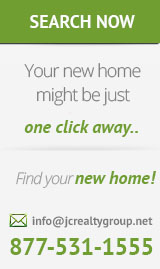 Are you looking for that just right, a place to call home here in South Florida? Perhaps you're downsizing or moving up in size to accommodate a growing family. Maybe you're relocating to Coral Springs or elsewhere in South Florida. As your South Florida and Coral Springs REALTOR®, we would be thrilled to help you find your new home or sell your home. Whatever your South Florida Real Estate needs, call us to get started.
JC Realty Group is a real estate agency founded in 2001, in Coral Springs Florida, built with integrity, professionalism with a vast understanding of the real estate market in South Florida. Whether our clients are looking for that just right place to call home, we guarantee a level of satisfaction knowing that you have made the right home or commercial purchase. We specialize in residential real estate, commercial real estate, rental properties, short sales, and foreclosures. Call us today at 877-531-1555.